NEW FRIENDLY INTERFACE / 2018



NEW FRIENDLY INTERFACE is a sensitive and expressive computer interface designed to help individuals who consider themselves to be emotionally deficient, socially inept, or who otherwise require supplemental affective labor.

The interface was created with tomorrow's digital laborer in mind.

Leveraging emotion recognition software to conduct variable-length, "face-to-face" conversations, the Artificial Empathy (or A.E.) service engages with users as a constructed stand-in for individuals to practice and develop their non-verbal, affective, and empathetic proficiency.




NEW FRIENDLY INTERFACE was on view at the Broad Art Center EDA for the UCLA DMA 2018 Senior Exhibition, Authentication Error [SOLVED].

The installation model includes a thermal printer component, which offers visitors a physical copy of their personal conversation log at the end of their stay.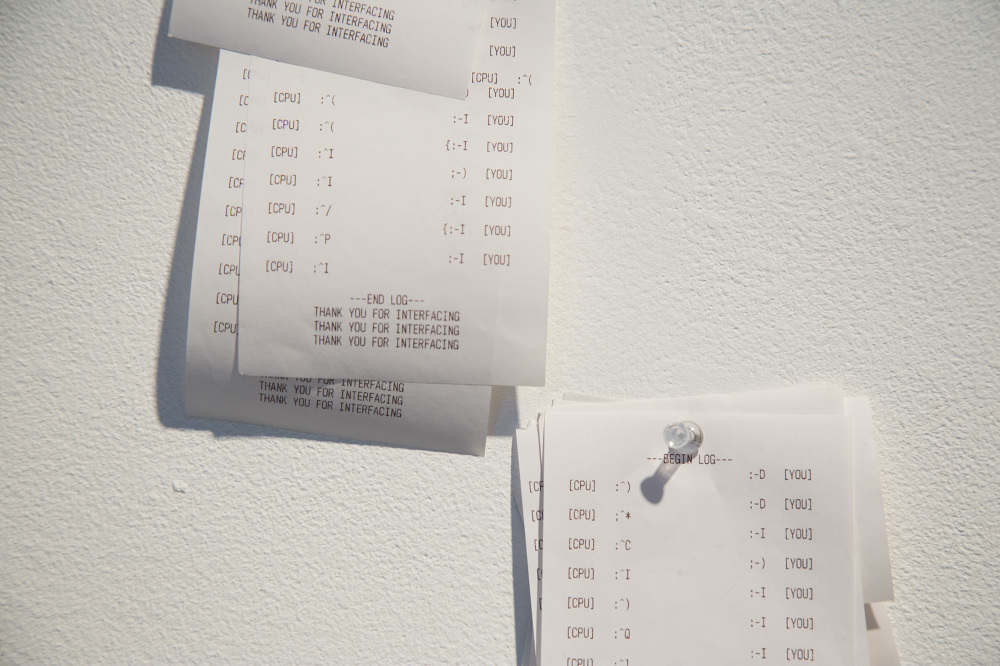 PLEASE REBOOT YOUR SYSTEM / 2020


PLEASE REBOOT YOUR SYSTEM is a simulation and proposal for the perpetual accumulation of unused matter in physical and virtual spaces. All said spaces – including living areas, personal storage, and hard drives – are to be endlessly populated with objects, memories, and data. During periods of prolonged disengagement, ambient processes will generate a buildup of the useless and forgotten.

This program attempts to visualize and replicate that clutter. If the simulation is left to run indefinitely, it will continue to instantiate countless quantities of objects, hoarding all of the remaining resources in virtual memory until it can no longer operate.


THE DICTIONARY OF DARK MATTERS / 2020



The Dictionary of Dark Matters is a publication containing an assemblage of poetry, prose, creative writing, personal histories, and illustrations contributed by the students of Dark Matters: Critical Theory of Technology taught by American Artist and TA Zainab Aliyu at the School for Poetic Computation.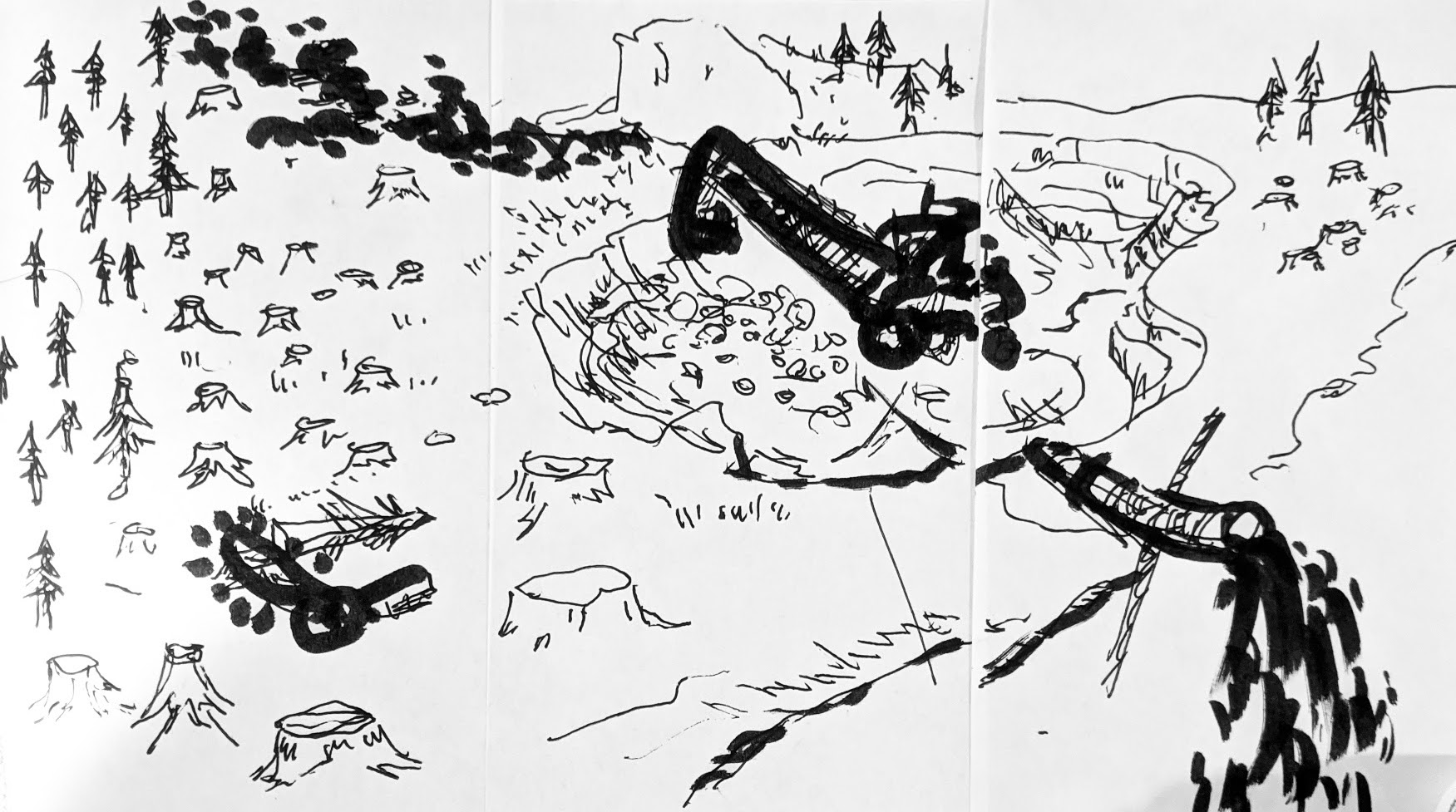 With 562 pages that hold definitions for terms such as Transparency, Redaction, Racial Gaze, Abolition, Tax State, Causal Pleasure, etc. based on students' personal experiences and (un)learnings from the course, the culminating publication redefines what a dictionary can be.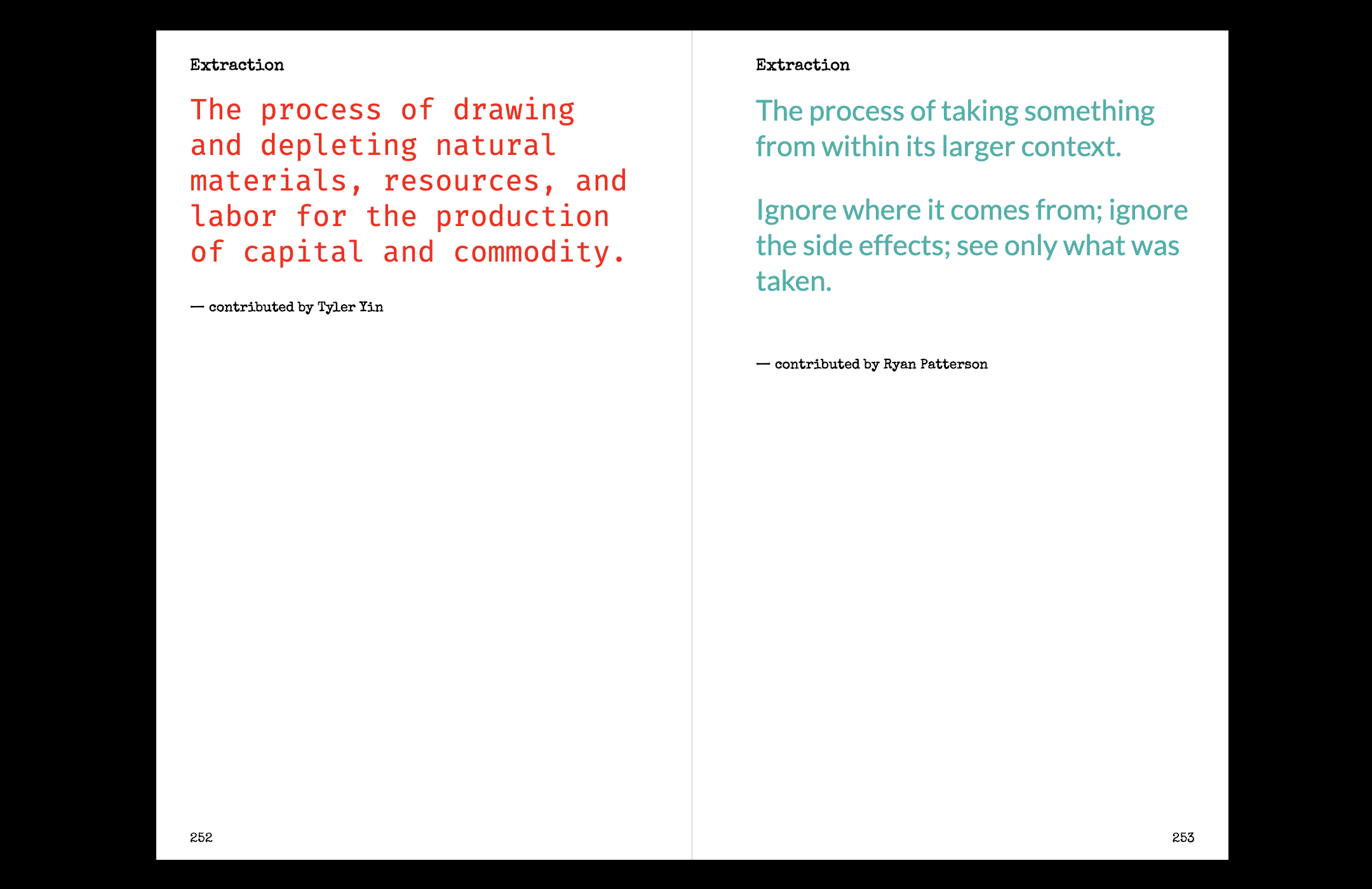 ---
Preview the book online
Watch the live reading
TINY TECH ZINES / 2019


Tiny Tech Zines is a Los Angeles based zine fair focused on cultivating critical dialogue around technology and digital culture through art, zines, and workshops. The first Tiny Tech Zines was held at NAVEL LA on August 11, 2019 and featured a range of local and international artists, technologists, educators, and activists.

Inspired by the original New York Tech Zine Fair, Tiny Tech Zines (TTZ) was created by Rachel Simanjuntak, Tristan Espinoza, and myself as an effort to bring communities in Los Angeles & beyond together to share perspectives about the ways technology affects our lives.




Silicon Valley has long been the dominant force behind technological innovation in the U.S., perpetuating technologies that often fail to serve marginalized communities in meaningful ways. TTZ believes that Los Angeles can fill a critical gap in the tech conversation by making space to share knowledge and highlighting the ways that our diverse communities engage with technology.

TTZ is community-based at its core and offers a space to be critical of technology by highlighting the perspectives and stories of communities that tech often fails to thoughtfully consider.



Throughout the day, TTZ held a series of workshops, where participants learned how to incorporate code into their digital practice, built speculative camera filters, imagined alternative tech futures, and engaged in collaborative research. Workshops were facilitated by Casey Reas, Lilyan Kris, Rachel Joy Victor, and Isabelle Harada.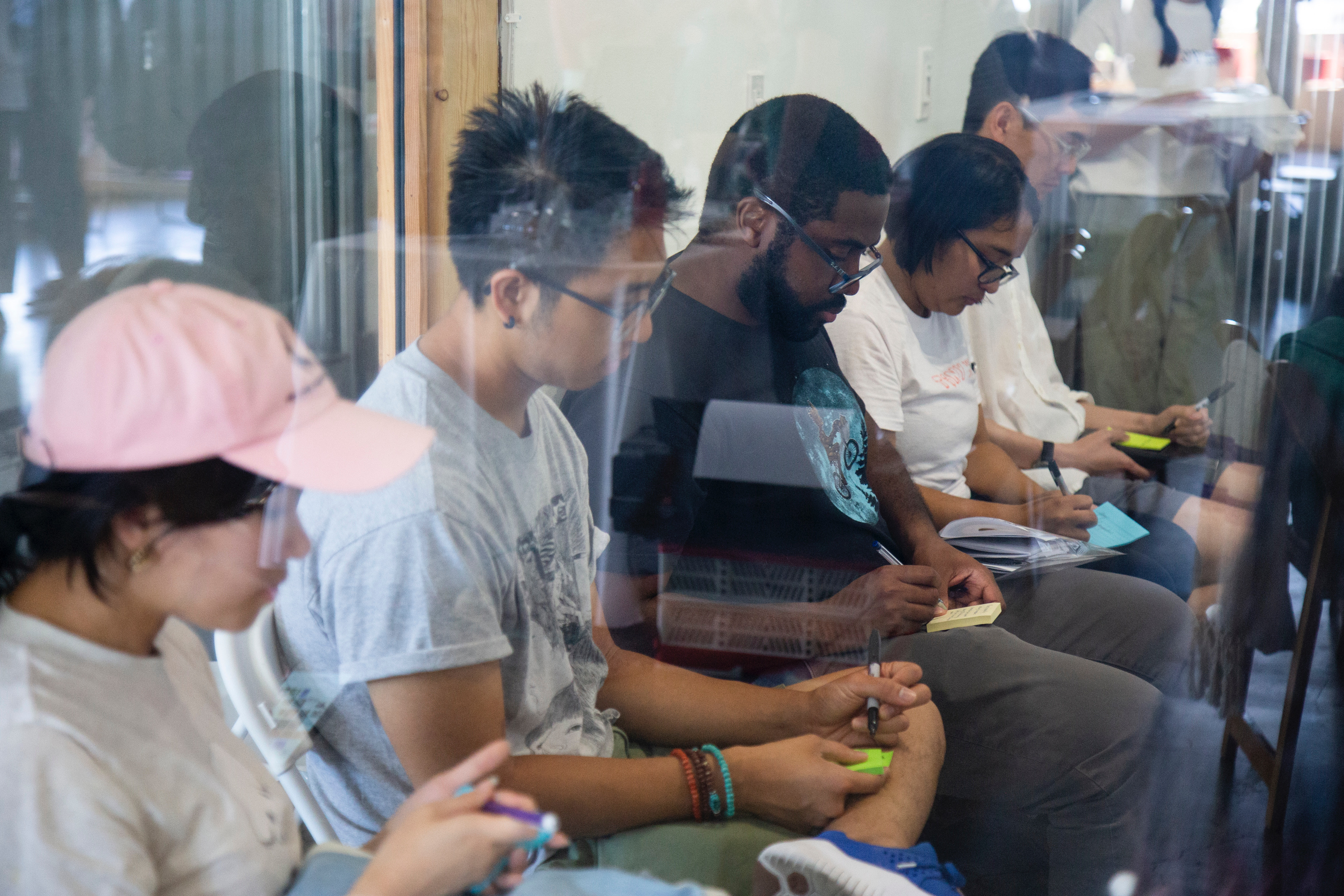 ---
Visit tinytechzines.org
---

FOUNDERS/ORGANIZERS
Rachel Simanjuntak, Tristan Espinoza, Tyler Yin

SPECIAL THANKS
Zeli Berusch, Phil Schleihauf, Gonzalo Moiguer, Stefanie Tam, and Bernard Semerdjian

PRESS
Hyper Allergic Big Cartel Broken Pencil Magazine With Friends


WHAT'RE YOU DOING? / 2020


WYD? (What're You Doing?) is an intimate gathering hosted by NAVEL where communities can share, talk about, and make inquiries on current research topics. On Sunday, October 11, NAVEL partnered with Tiny Tech Zines to feature Maya Friedman, Rudy Falagán, & Kengchakaj Kengkarnka as guest speakers. Hosted virtually, participants and visitors discussed work-in-progress and research ideas for topics such as remote care and telehealth, technology dependence in the age of COVID, decolonizing Thai sound culture, and the intersections of identity, health, and internet culture.


---
Learn more
---

CO-ORGANIZERS
Rachel Simanjuntak, Tristan Espinoza, Tyler Yin

SPECIAL THANKS
Michael Holt, NAVEL


---
UPDATED 12.01.20, 18:04 PDT